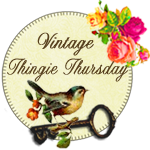 Life has gotten pretty strange when you spend a day thrifting -
just to get an item for Vintage Thingy Thursdays!
But so it was today. Not much luck in Goodwill but in St. Francis I found this Homer Laughlin bowl for 79 cents. Is that a good price? It's about 5 inches across, has some chips and some problems with the glaze, but I love the flowers.
It's sad though because although some items are there because some one did some Spring cleaning, some items are there because someone died, and the house had to be cleaned out.
happy a happy vintage day!
viridian61