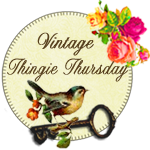 Above is a crazy quilt square - somewhat larger than 12 inches square. It is made out of very scraps of very thin silk, batting, and backing fabric, all held together by the embroidery stitches.
It is rather delicate. This came in a set of several squares like this, and I suspect the plan was to join the squares in a qult-as-you-go method. That would be a challenge with this splitting, raveling fabric.
I have this on loan from my quilt guild. I think I'd best get it back! It certainly is vintage.
I'm back after a few weeks away. Happy Vintage Thingy Thursday!