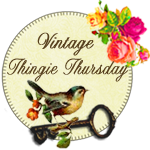 I am joining
Coloradolady
this week for Vintage Thingy Thursday.
Time: an afternoon last week
Place: a Goodwill store I haven't visited in a long time
Item: a leaf-shaped plate that I did not immediately recognize as an ashtray. That is how uncommon smoking is among my friends and family.
Markings: Back: Orion China, made in Japan. "Hand Painted"
Front: Sweet pink rose with two buds, gold accented rim. I'm not sure what is hand painted unless it is the wisps of gold on the bottom.
Condition: used, still pretty!

Yes I thought this would be good as a spoon rest for the stove top, and I am using it as that, but the shape is not the best.
It's hard to believe anyone would have such a pretty ashtray, but someone did. The gold accent is worn in some places, and there is a chip or two, but that is OK.

Viridian