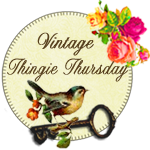 DWR = Double wedding ring quilt. This one is four rings by five rings, and was purchased off ebay about a year ago.
There is some surface discoloration, but otherwise this quilt is in great shape - no weak fabric or holes. And the fabrics! Just classic depression-era prints.
Most fabrics are dress-making cottons, similar to our quilting cotton fabric today. Only a few pieces are of that coarser weave fabric that says "feedsack". it is hard to see in these photos, but there is dense quilting in an interesting pattern. Someone did a fantastic job.
Please visit Coloradolady and see what other wonderful vintage things people are sharing!
viridian61