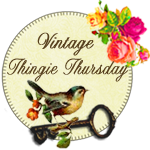 I am joining
Coloradolady
this week for Vintage Thingy Thursday. See what other people are sharing - click on the icon above.
Today's entry is 3 feedsacks that I purchased off ebay, from various sellers.
Feedsacks (or feedbags) are definitely before plastic.
At some point in the 1920's, a better grade of fabric was used to make bags - and the manufacturers started printing pretty patterns on them. The product information would be printed right on the bag, or a paper label that could be removed was used.
If in good condition these sacks or bags are collectible. Since new quilt fabric prices are at $10 a yard and increasing, to me anyway these sacks are a reasonable source of fabric, especially if you like the 30's and 40's reproduction fabrics. After all a feedsack contains a yard of fabric, and some with a few rips or stains can be had on ebay for 9 or 10 dollars. Oops, I just let you know my sources. :-)
Viridian