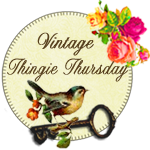 I am participating in Vintage Thingy Thursday, hosted by Coloradolady. She has found a real treasure that will touch your heartstrings. Go see!

I have an old photo that is definitely vintage. I do look at the old CDV (carte de visite) photos at antiques stores, looking for an image that attracts me. I like the ones of children.
This one I picked up because it was not taken in a studio, but on the street. A pony has been brought to an urban neighborhood and a brother and sister are loving just sitting there. I love their expressions.
In the store window behind them, are some cans with labels I cannot make out, an ad for Morning Glory brand hams bacon and lard, and Shinola. Shinola is a shoe wax that, during World War II, became associated with the phrase: "He doesn't know s*** from Shinola." Not a saying any corporation would want to hear, concerning their product.

Shinola is a 20th century product, and if Wikipedia is to be trusted, the trademark was filed in 1929. Hmm, I would have guessed this photo to be older. What do you think?
Happy Vintage Thingy Thursday! Please check a previous post for how you can enter in my contest and win a fabulous prize! Well, a prize anyway.

viridian