Happy Vintage Thingy Thursday, hosted by
ColoradoLady
!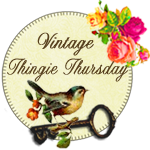 This is a leather sewing kit picked up in an antique store and labeled by the seller as an army sewing/repair kit. The item itself is not labeled, but given the color of the thread included, I would agree. The first photo shows the closed kit, and second, when opened
.
On the inside the label says "Belding-Corticelli genuine leather". Belding Corticelli was (is?) a thread maker, and spools of this thread and advertising cards are sold on ebay.
The little aqua box contains button and a plastic thimble, but no safety pins.
The thread is old: I used some to hem my husband's pants (same olive color) and the thread quickly broke. Which war is is from? Sigh. It seems as if there is always a war, doesn't it?
viridian