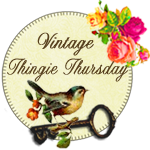 I'm joining
ColoradoLady
for
Vintage Thingy Thursday
, with a baby quilt purchased in Ohio, and probably made in Ohio. it is 27 inches wide by 32 inches tall, not including the points around the edge. It is hand-quilted.

Each pinwheel is about 4 and 3/4 inches square, and they are made of a great variety of 30's dress weight fabrics. None has that coarse weave of feedsack. If you collect reproduction 30's fabric (Aunt Grace, etc.) and you look closely, you may recognize some designs that have been reproduced. There are also some fabrics here I wish could be reproduced! The quilting design in the alternate white squares is of a simple circle flower and two leaves. If the quilt is held up to the light, you can tell the cotton batting has shifted and bunched, though the quilt doesn't feel lumpy.


I have never added prairie points to the edge of any of my quilts but these do appear to be prairie points, though the maker probably did not call them that. They are made as shown on this About.com web page, though not overlapping as they show.


Happy VTT! and see this post for how to enter my fabric giveaway to celebrate my second blog anniversary.


Viridian