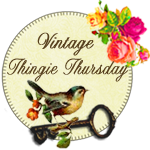 I'm joining up with
Colorado Lady
for Vintage Thingie Thursday!
I haven't participated in Vintage Thingie Thursday in a while because I ran out out of vintage 'things' and I've got a personal pledge to stay away from ebay. But I dug deep and I found a thin book called Flood Views: Franklin County and Vicinity. This is in Massachusetts. There is no publication data.
Some photographs from inside:
Areas upstream from this area were devastated by floods after Hurricane Irene, which made me think of this booklet. It must have been exciting and scary to see the water everywhere, in normally dry areas. But it must have cost some serious money in those Depression Days to fix everything.
Viridian
Tweet