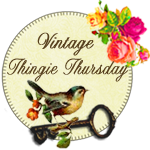 I am joining
Colorado Lady
for Vintage Thingy Thursday. Click on the image above to see some wonderful old things.
Today I am sharing a photograph found in an antique store.
A sweet child, dressed in white with chubby legs. Note that the dress is blurred becasue either there was a breeze or the child was moving.
There is no name on the back, and I have no other information on this photo. That makes me sad, actually.
viridian