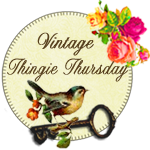 I am joining
Coloradolady
this week for
Vintage Thingy Thursday
. See what other people are sharing - click on the icon above.
At a local 'antiques' store I picked up a copy of Needlecraft from December 1934. The depths of the Depression, though it's hard to tell from this issue.
Various crafty gifr ideas are included. And ads for items a homemaker might worry that she needed, such as a Perfolastic girdle - reduce your hips 9 inches!
I hope you enjoyed your trip into the past.
viridian