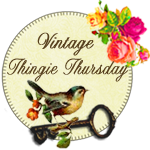 I am joining
Coloradolady
this week for
Vintage Thingy Thursday
, and
My Cottage Charm
for Treasures and Trinkets Thursday. See what other people are sharing - click on the icons above.
As
Coloradolady
suggests, when you have three of something, you have a collection...
Today: Children's and doll tea sets. This incomplete set is from a Goodwill in Massachusetts. It's the right size for a little girl to have a party with her dolls, or with friends. Each piece is marked "Made in Japan". I have seen this pattern before - just not at the right price.
The next two sets are sized for the dolls themselves - very small scale.
Again, incomplete sets, but I'm building my collection!!! These two sets are newer, and probably just barely count as vintage.
In a previous post
I wrote about a sugar and creamer set that I found, so, I now have 4 things in this collection!
Viridian