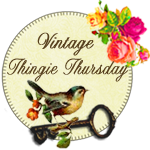 I am joining Coloradolady for her Thursday party.
In a previous post of Dec. 3 2009 I described how I caught the tea cup/tea service bug, when I found a lonely sugar bowl from a child's tea set at a local antique shop with various vendors.
Last week I went back to the same place and looked for the same vendor. Lo and behold, the matching creamer was there!
Oh, this really made my day.
The bottom says "Handmade Handpainted Bone China" and "Royal Stuart - Spencer Stevenson England." It is in excellent shape.
Both now adorn my kitchen windowsill, where I can see them every day.
Happy Vintage Thingy Thursday!
Viridian