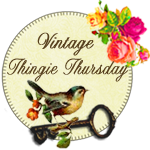 I am joining
Coloradolady
this week for
Vintage Thingy Thursday
. See what other people are sharing - click on the icon above. Suzanne has the discovered the fun of feedsacks!
Above: two pieces of vintage fabric. Below: two feedsacks. Purchased at Brimfield.
I recently attended the
Brimfield Antique Show
at Brimfield, Mass., famous in dealer and collector circles. There are a number of fields where vendors set up their tents in the front, and people park in the back. There are many antiques, and a bit of junk also! Let the dealing begin! I bought a number of feedsacks, and 3 cigar boxes, probably not really vintage:
The box on the bottom is a de Rothschild cigar box, but it's just too shiny in the camera flash, so I cropped it.
It was so much fun, just looking! It was a great time with my mom and my aunt. As ColoradoLady points out, there is quite a bit of fabric in these feedsacks - they are often 38 by 46 or 47 inches, so more than a yard of fabric. The weave is coarser than most quilting cottons, but quite usable. Sugar sacks used a finer weave fabric. Mine did not have paper labels attached. I have already cut into my feedsacks (gasp! yes) and the vintage fabric for pieces for my
Whirling Stars quilt
. The red fabric above will be used for the border. I have featured feedsacks before for VTT, and here I go again. Do you have something you just have to collect?
Editted to add: I'm also linking in to My Cottage Charm Treasures and Trinkets Thursday.

PS. Next week: doll tea sets! Oh No!
Viridian