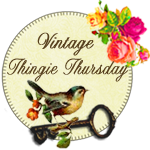 Vintage Thingy Thursday
is hosted by Coloradolady. Please visit her site and see who is playing along this week.
(That's an Easter egg in the photo!)
Here are two little 'dust catchers' that were originally owned by my grandmother. I saw the blue one as a little girl in her house, and in the way of whiny grandchildren, I asked if I could have it. Of course was the answer. Oh I just loved that blue, and the painted flowers as a child. I thought it was the most beautiful little pitcher.
Well, time flows by, and some years ago now my grandmother passed away. She had moved into an assisted living apartment that was much smaller than the old house. There wasn't much left for my mom and her siblings to clean up and distribute. But, my mom picked up the little pitcher on the right for me, remembering the story of the blue pitcher and how much I loved it.
I don't remember seeing the white pitcher anywhere in her house. It is marked Japan on the bottom. These two sit on my kitchen windowsill.
I miss you grandma.
viridian