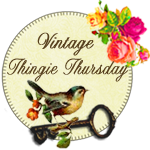 Vintage Thingy Thursday is hosted by Coloradolady. Please visit her site and see who is playing along this week.
This is just a corner of a one of my many vintage hankies. I must admit yes, I do collect them!!! Coloradolady's post this week is about vintage purses. A lady would always have a pretty hankie in her purse, of course.
This one is delicate lawn fabric, a pretty lace border, and a most amazing petit point and embroidered group of fruit and flowers. Who could use this on a runny nose, yours or your child's? Maybe I would dab a tear from my eye, hearing a moving story.
Happy VTT, Viridian