Happy Wednesday! I am joining
Coloradolady
for Vintage Thingy Thursday.
I know these as dollhouse rugs, and they work wonderfully for that purpose. I inherited some from my mom for my dollhouse. I found out much later that these are premiums given away in tobacco products (cigars or cigarettes, I am not sure) to encourage smoking! Back in the early 1900's of course this was quite legal, and done a lot. More information is at
this link
. I have shown other kinds of premiums on my blog before.
Happy Vintage Thingy Thursday!!
Viridian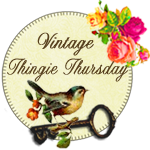 Tweet