The family and I stayed at a lovely little cottage on Cape Cod in Massachusetts a few weeks ago now. I'd like to share one more set of pictures from this cottage.
Decorating was an electic mix of cast-offs, but one bedroom was decorated in cottage style. There was a sweet little shelf above the double bed with delightful teapots and plates.
As these were not my items and they looked delicate, I did not pick them up and check if they were from the USA, Japan, or England. Just enjoy. And look at the detail on that shelf - I hadn't remembered that!
I am linking up with
Coloradolady
for Vintage Thingy Thursday.
Viridian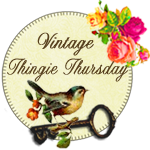 Tweet