The family and I stayed at a lovely little cottage on Cape Cod in Massachusetts a week ago. Walking distance to the beach! Sea breezes! The ceiling in the living room had been raised and where the crown molding would be, there was a narrow shelf - just right for displaying a selection of pretty vintage teacup saucers. Probably long ago separated from their teacups.
We ladies in the family had fun picking out our favorites. Enjoy these vintage thingies, and note the
pink
!
I am linking up with
Coloradolady
for Vintage Thingy Thursday and with Beverly at
How sweet the Sound
for Pink Saturday. I'll have little teapots from the same cottage next week.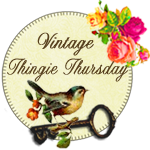 Viridian
Hope you are enjoying your summer.
Tweet