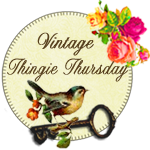 I am joining Coloradolady this week for
Vintage Thingy Thursday
. See what other people are sharing - click on the icon above.
I really can't help myself. I purchase old and vintage quilts when the price is right, even on vacation. And I was on vacation in Cape Cod and the price was right. Note there are cut-outs (flaps?) so that the quilt drapes nicely over the corners of the end of the bed. there are some stains on this, which brought the price down.
A closer look.
And a look at one block. Great fabrics! And 18 petals to each flower, not 12 or 16. I think I have one of these fabrics in my fabric
hoard
collection.
This top has finished seams and so is a "summer spread" - usable as is, but no filler or backing. The pink strips shown above are top-stitched on - not very well I may add.
Happy vintage Thingy Thursday! Is there a well-loved quilt in your family?
Viridian