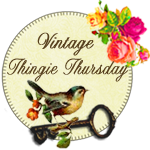 I am joining Coloradolady this week for Vintage Thingy Thursday. See what other people are sharing - click on the icon above.
I am sharing with you today a quilt top I purchased some time ago in Ohio. It is shown above on a queen sized bed. I was able to talk with the dealer, who had just acquired some items from an estate sale in a rural Ohio county. This top is made of a number of Shoo-fly or Hole in the Barn Door blocks, set alternately with squares of an acid green fabric.
Look at the range of scraps in these blocks! From the fabric I would guess this top was made late in the 1800's - post 1875 at least. But I am not a dating expert. Then, the top must have been folded and put away because it is absolutely pristine. It looks like it was made yesterday!
Viridian