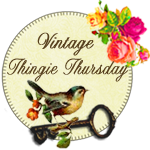 I am joining Coloradolady this week for
Vintage Thingy Thursday
. See what other people are sharing - click on the icon above.
Today's entry is a summer spread in the double wedding ring pattern (DWR). It is a spread because it is a single layer of fabric, finished and with a dust ruffle. It looks pretty good on a queen sized bed.
Here's another look at the rings and the embroidery around the rings and in the middle. The ring segments were pieced and then appliqued onto the yellow fabric. Then, a close-up of the lovely 30's fabrics, and where a an area of the yellow fabric was carefully mended. Can you see it, under the center embroidered flower motif? Click on the photograph to see a larger version. this was a careful mending job!
This
view of the back shows how this applique and embrodiery was done.
This is yet another ebay purchase. It looks much better in person that in these photos, and in the on-line listing, so I feel like I won a real treasure.
Speaking of winning, let me mention here the giveaway contest in pregress at my other blog,
Viridian's Postcard blog.
In honor of post #99, I am giving away a set of 10 unused postcards.
How to enter this contest:
Leave a comment on this post
and please include a way to contact you if your blogger profile does not include your email address or blog name.
A mention of this contest on your blog would be great but not necessary. A give-away is also a promotional scheme after all.
Enter by Tuesday June 29 at 6 PM Eastern USA time.
(I have family vacation the week before this.) At that time I will close entries and use a random number generator or random list generator (See Random.org) to pick the winner. The next post will announce the winner. Once I have a shipping address the postcards are off to its new happy home.
Happy Vintage Thingy Thursday!
Viridian