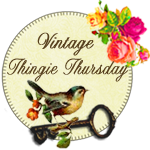 Check out Colorado Lady for more vintage treasures!


I bought this platter (about 15 inches across) at an antique mall and I'll admit I immediately lunged for it because of the power of memory.


My grandmother - my mom's mom, had this set. Well, I assume she had the whole set. By the time the first grandchild (me) came along, she may have had 5 or 6 more or less complete place settings and some serving dishes. The rest had suffered and been broken in a house with 5 children. Turkey at special dinners were always served on a platter just like this, and I was able to use one of the few remaining dinner plates. Not many plates survived the ensuing 10 grandchildren.


Grandma passed away in 1990 but I remember her with love today. She moved from the big house with 3 bedrooms, to a large apartment, then a small apartment, then to a tiny apartment in senior assisted living. I don't know what became of what was left of her china and serving platter. But this one is here to remind me.


It was made by Edwin M. Knowles China Co., and made in the USA. Apparently that really is '22 karat [sic] gold' around the edge.
Grandma, I miss you.


viridian