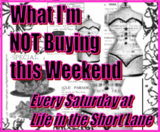 Since I'm staying at home this summer, I need a comfortable way to lounge in my own backyard. Actually this is true, I don't have a chaise lounge. However I'll be visiting Wal Mart or Home Depot, not Plow and Hearth, I think.
I am not buying the Harris Grove Chaise Lounge:
The Chaise Lounge is generously sized (thank goodness) with a sturdy slatted seat and has a built-in tray that pulls out from either side (for left-handed or right-handed drinkers - lemonade, right - wink wink). Classic English Garden-style design features old-fashioned mortise and tenon joinery (huh?) for sturdiness and longevity. Rustproof hardware. Assembly required.

And cushions! Cushions not included.
Lounge $179.95 + $20.00 Extra Shipping Charge
Chaise cushion in Aqua Floral $89.95
$269.90 plus $22.99 +$20 extra shipping = $312.80 not spent
viridian