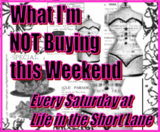 [Margo: I am posting this early since I am going on a family vacation and actually did spend $200 on drinks and food to take with us]
Since I am not renting the Cape Cod vacation cottage, not even for one week, I'll be staying in town. I think I'll need a sweet pair of sandals for not shopping at local boutiques and not buying expensive fancy coffee drinks. A comfortable pair of sandals to wear to the library to check out the books I am not buying.

Maybe, these by Stuart Weitzman, Patio, originally $250, on sale at Zappos.com for $169.76.
Low heel, classic style. But I would also like to not buy a sexy heel, though at my age, length of marriage, and 3 kids I don't know when or where I would wear them. School open house? Cheerleading competition?
Church?!

How about Stuart Weitzman Submit (Good Lord who comes up with these names?) at $315?

Reviewers say they run narrow so my I think I will have problems with my flabby feet that have worn sneakers most of the time.
Reviewer Nicole from NYC gives them 5 stars: "I own sandals from hordes of designers and these are perfection. They are delicate but stable and comfortable….. I'm used to just saying something's comfortable to make myself feel better for paying $800 on a pair, and miraculously these are so inexpensive!!!!!!"

Ha Ha Ha! What world is SHE living in!


I will of course need a pedicure to clean up my feet and especially my toes. Pedicures range from $30 to $75 (tip not included), depending on what fancy things they are going to do. Clearly I don't live near NYC!

Let's go for the "Luxurious Hot Stone Pedicure Earthy and Indulgent, this pedicure is the pinacle [sic] of pampering, including a softening soak w/milk & honey aromatherapy leaves. Feet rest on heat holding river rocks, while nails, cuticles and calluses are tended. Following a warming sugar scrub, terra-cotta moisturizing mask is applied while heated stones between the toes relax the entire foot. Paraffin dip on both hands and feet is included. Steam towels and massage Soothe and Smooth Treatment with hot stones complete this experience. This uplifting pedicure offers the ultimate in 75 Min. $62"

[This is Ohio! Do they even know what they are doing? I'm gonna get burned, in more ways than one.]

Patio sandals: $169.96 (Zappos has free shipping)
Submit sandals: $315
Pedicure + tip: $75
Not spent: $559.96