I've been visiting ebay again, friends, and picking up tobacco silks. Oh, this has to stop.
Two queens, Marie-Theresa of Austria, 1840 - 1863, and Esther, 200 BC - yes, the Esther from the Bible. A bit of fraying here but looking good, for being almost 100 years old. Very Vintage!!! These were inserts or premiums, in tobacco products, much as little toys are in cereal boxes today.
Be sure to visit
Colorado lady
and see more vintage items!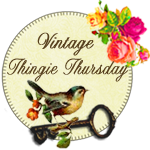 Tweet