Happy Vintage Thingy Thursday! Today I am sharing two cigarette silks from early in the 20th century, perhaps 1910's to 1920's. They are of Queen Isabella of Spain and of a parakeet. The images are printed on silk and look as if they could become part of a quilt. And that was the plan. These were premiums or prizes to encourage women to smoke, or to encourage their husbands to smoke - if you can imagine that. How times have changed.
Learn more about tobacco premiums
HERE
.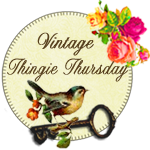 Visit
Colorado Lady
and see many other neat vintage items!
Viridian
Tweet