This is a vintage card that is bigger than a postcard, and bigger than a holy card. Yet it reminds me of a holy card. I don't know what this is exactly, but one thing for sure, it is very vintage. The flower on our ornamental crabapple trees will look like this in a few days I think!
The card has a quote from Psalm 147: "He healeth the broken in heart, and bindeth up their wounds."
Take care everyone, and Happy Vintage Thingy Thursday. Be sure to visit
Suzanne's linky list
and see who else is sharing this week.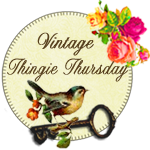 Viridian
Tweet