Boy, those tree leaves are bright in this old linen card, aren't they? It looks tropical and pretty and WARM. We had freezing rain here in the Midwest today.
Caption: "Hundreds of Royal Poinciana trees border S. Miami Ave., Miami, Fla." On the reverse: "Between May and July this avenue is ablaze with the flaming Royal Poinciana, affording a never to be forgotten sight to persons who have never seen nature in such brilliant array."
Sent from Hollywood Fla to Rhode Island in 1955.
"We visited a park to-day and saw all the animals and things. Then we went to Miami. Saw Arthur Godfrey's Hotel. Lois, Bill and Roger"
Today I think most people would be interested in the beach, shopping or the nightlife at South beach. Arthur Godfrey is not remembered.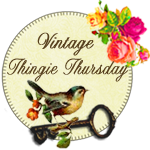 Visit ColoradoLady and see who else is playing!
viridian
Tweet